One of the greatest tragedies, for me personally I think, was that I never got to watch the film The Red Shoes as a child. I think though I would have perhaps been a little frightened, I would have been transfixed. And maybe it would have been even more magical for me (if that is even possible).

As it is however, I did NOT see the movie as a child, indeed I did not have the pleasure of seeing it until last week. I have always loved dancing. Though of course I am not blessed with a dancing ability my self, I still enjoy watching it. The Nutcracker is one of my favourite stories of all time because of this.

The Red Shoes…

What can I say about it?

It's…Good.

No, it's better then good. It's amazing.

No, Magical.

No, Brilliant…

It's all those things combined and more!

It's like a moving piece of art, a wonderful canvas. Beautiful in all it's splendor.

Though unfortunately my copy of the movie is in dire need of restoration, so I feel as though I have somehow been cheated in enjoying the movie for all it's worth. If I ever see it in it's restored glory, I shall buy it and probably come on here and gush about it all the more! So, beware! XD
The story, when you strip all the layers and other things that are added in the movie, is a fairly simple one. It is a "modern" adaptation of the Hans Christianson tale The Red Shoes…
A girl wishes nothing more than to dance. She gets her wish, when a manipulative yet charismatic ballet impressario Boris Lermontov (played by Anton Walbrook) allows her in his company. He is a hard person who expects nothing less then utter and complete devotion to the chosen field each of his protégées has chosen. Under his guidance Vicki, the girl played by Moira Shearer, is seemingly destined for stardom and the composer a young Julian Craster (played by Marius Goring) is destined for the same. Vicki lands the lead role in the new ballet production entitled 'The Red Shoes', which instantly makes her a hit.
However when Vicki and Julian fall in love, much to the scorn of Boris Lermontov, Vicki must decide what she must choose- her greatest love or her greatest passion? Or perhaps, they are in fact the same thing?
Without giving too much away, this movie is the perfect blend of fantasy, romance and tragedy. It is also a wonderful look and insight in to human nature as each of the main characters, Boris, Vicki and Julian, all struggle internally with their demons.
Moira Shearer and Anton Walbrook are the stand out's for this film for me. Anton in particular handles his emotional scenes with outstanding craft and technique. And Moira? She is simply breathtaking in some scenes, especially when she dances. The passion, talent and struggle all shows with her movements… She is indeed one of the most wonderful women of her profession to ever be filmed. How lucky we are to have her immortalized in such a way.
The best quote of the movie;


Boris: Why do you want to dance?


Vicki; Why do you want to live?


Boris; Well I don't know exactly why, er, but I must.


Vicki; That's my answer too.
For some reason while I watched this movie I kept thinking of Moulin Rouge, but I think that might just be because of the red hair and the 'forbidden love' aspect both films. However it is probable that Baz Luhrmann drew at least SOME inspiration from this movie, not that I mean this in an accusing or mean way, it's just a fun thing to point out/know. :P

It's a beautiful story, well told. Though made in 1948 it has this certain timeless way about it, it still holds up very well in today's standards and would no doubt still entertain numerous people from all walks of life. I don't think I am or ever could do enough justice to it. So I beseech you all see the movie. You won't regret it. (And if you do for whatever unfathomable reason regret it, don't yell at me! XDD)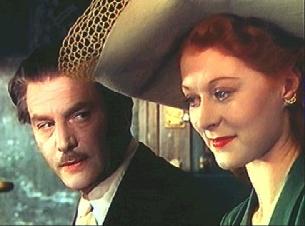 The Red Shoes (1948) and all it's images belongs to 'General Film Distributors' UK.